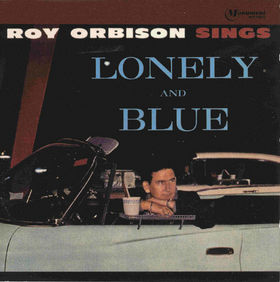 1961
Roy Orbison
Monument
Lonely and Blue is the second music album by Roy Orbison for Monument Records, released in January 1961.
Side one
1. "Only the Lonely"
2. "Bye Bye Love"
3. "Cry"
4. "Blue Avenue"
5. "I Can't Stop Loving You"
6. "Come Back to Me (My Love)"
Side two
1. "Blue Angel"
2. "Raindrops"
3. "(I'd Be) A Legend in My Time"
4. "I'm Hurtin'"
5. "Twenty-Two Days"
6. "I'll Say It's My Fault"
2006 bonus tracks
13. "Up Town"
14. "Pretty One"
15. "Here Comes That Song Again" (B-side to "Only the Lonely")
16. "Today's Teardrops" (B-side to "Blue Angel")
Copyright 2023 - Roy's Boys LLC - All rights reserved.