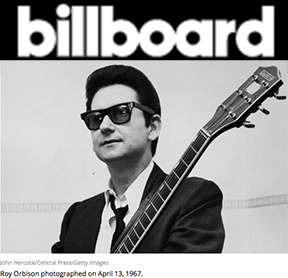 1/11/2018 by Cherie Hu
The U.K. leg of the "In Dreams" tour, featuring a laser-projected Roy and a live band, has already sold over 70 percent of its tickets.
Two days ago, I watched Roy Orbisonrise from the ground onto the stage at the Rose Theater at Lincoln Center, donning a gray suit, a red Gibson guitar and his signature sunglasses. Supported by a live orchestra and conductor, Orbison performed his hit song "Only the Lonely," an extravagant light show in the background balancing out his velvety voice and characteristically statuesque stage presence.
At the end of the song, however, Orbison's body disappeared abruptly from view, and a white, 8-by-15 laser grid took his place. The sound and lighting technicians at the back of the venue announced the end of dress rehearsal, signaling the orchestral musicians to take a break. What I tried to forget in the moment of the spectacle came rushing back to me: the Roy Orbison I just saw wasn't actually real.
Regardless of your reaction — horrified, intrigued, confused, excited — this is what Base Entertainment, the second-largest producer of live shows in Las Vegas behind Cirque du Soleil, is betting on as the next frontier in live entertainment: holographic shows.
In collaboration with Orbison's Estate — managed by the late singer's sons under the name "Roy's Boys" — a new subsidiary of Base Entertainment called Base Hologram is taking a virtual Orbison on an international tour with local symphony orchestras. The tour is titled "In Dreams," named after Orbison's hit single, and the hologram will make its first-ever public appearance at the APAP Conference this Sunday (Jan. 14).